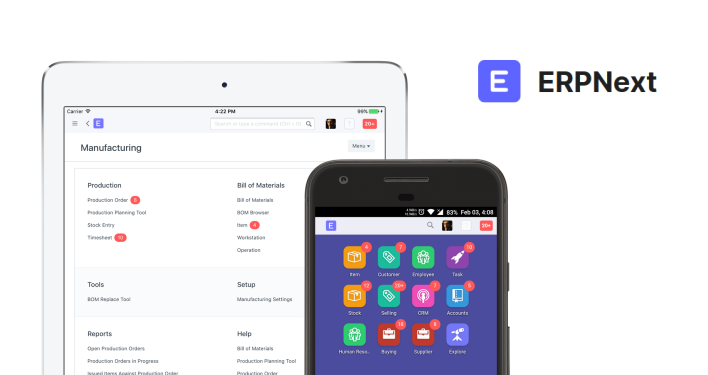 I am happy to announce Rainmatter's investment in ERPNext, the biggest Free and Open Source (FOSS) project out of India, and the biggest FOSS ERP (Enterprise Resource Planning) system in the world. While it is uncharacteristic of me to speak of a financial investment, I am personally excited about this for multiple reasons.
ERPNext is a highly customisable, out of the box ERP that contains scores of modules, everything from inventory management to payroll to sales and support CRM, and ticketing to HR and employee wellness. It is built on top of the Frappe Python framework that allows one to rapidly customize and build complex business applications and workflows. ERPNext is offered as a hosted cloud solution for businesses with competitive prices, and for those with the technological capacity, it is available as a truly free and open source system (GPL licensed) to adapt, install, and self-manage.
We discovered ERPNext at Zerodha sometime in 2016. We downloaded it, played around with it, and were blown away by its quality. We made the critical and pivotal decision to build our backoffice business systems on top of it without ever contacting the company behind it. It was FOSS after all. Our sales and customer CRMs, employee intranet and leave management portals, account opening workflows, complex maker-checker systems, and dozens of business workflows have been built on ERPNext's Frappe framework. We self-host and self-manage these systems with a tiny team of developers, and it has allowed us to scale massively, and also keep all our data and systems fully internal, and of course, save countless millions of dollars in cost year after year. In addition, it has afforded us the agility to quickly implement sweeping regulatory and process changes that are commonplace in the stock broking industry. I attribute a significant reason of Zerodha's agility, growth, and success to ERPNext. It is a key reason why a 30 member tech team has been able to build, maintain, and scale the largest stock broker in India, all in-house.
Rushabh Mehta founded ERPNext 10 years ago as a system to help manage his family's business, and since then, he and his team have turned it into a sophisticated and expansive piece of technology, one of the only kinds in the world while being fully bootstrapped. The team of passionate technologists and FOSS developers are now at a juncture where they have to expand to non-tech arenas such as sales and consulting to cater to the growing list of enterprise, B2B customers. We are happy to have been able to invest in a company whose product has been instrumental to our success. That too, a FOSS company making one of the best FOSS projects out of India that is of immense value to enterprises everywhere—a product that everyone is free to use and build their enterprises with. And of course, an extremely rare event in the industry; a FOSS investment.
Prior to this, the teams at Zerodha and ERPNext created FOSS United, a non-profit foundation to promote and encourage innovative FOSS projects like ERPNext to be built in India. A shared love for FOSS, code, and technology for public good—yet another reason I am excited about this partnership!
PS: Here's ERPNext's post on this partnership.