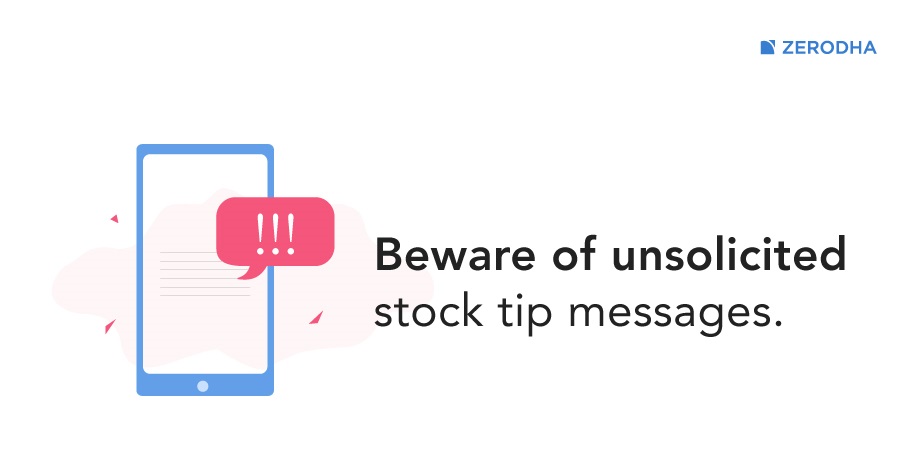 In the past few years, the scourge of stock tip messages, calls, and websites has become a dangerous nuisance. We've been seeing queries from unwitting investors who have invested based on these messages and calls. We are writing this as a cautionary note urging you to not invest or trade based on anonymous and fraudulent stock tips.
These schemes are commonly known as "pump and dump" scams. Here's how a typical scam works. Operators pick illiquid stocks which typically don't trade actively. The operators would already be holding these stocks and start sending out SMS, Telegram, and WhatsApp messages like these in order to boost the stock price. Here are some examples of these messages where these tipsters are impersonating us with variations of Zerodha such as "ZRODHA", "ZERDHA" etc. This is illegal and we've always reported such cases to the relevant authorities including SEBI and Cyber cell.
The prices of these stocks go up as people flock in as the messages are circulated. As the price keeps going up, these operators keep offloading the stocks in large quantities. And these stocks start hitting lower circuits for months together leaving investors trapped. Here's a chart of Agrophos, 7NR Retail, and Mauria Udyog – 3 stocks for which these fraudulent messages were circulated:
Here's the Google Trends data which shows the search volume for these stocks. Very little search activity and then sudden sharp spike right around the time that the tips were sent.
Please remember that there are no get rich schemes and most of these stocks have dubious fundamentals at best. Please stay away from trading or investing based on stock tips messages and calls. It's very important that you understand the basics of trading and investing and there's no better place than Varsity to learn about the markets.
What should you do if you have already bought these stocks?
These stocks hit lower circuits right at the market open, in which case it is not possible to exit. If you have invested in one of these stocks, there isn't much you can do other than placing an AMO order.
How do these tipsters get the contact details?
This has become a particularly nasty and deeprooted industrywide issue. When you open an account with any broker, the broker is required to share details of your mobile & email to the Exchange, Depositories, KYC agencies. The Exchange uses this information to send you SMS on days you have traded and alerts when brokers upload your fund balances. The Depositories use this to send SMS whenever there's a debit transaction on your demat account. The KYC agencies use this to send you updates whenever an entity fetches your PAN and does your KYC. Many of these entities use third party IT solutions and SMS gateways and the leak could've happened anywhere. Kailash Nadh had answered the same query in detail on a Reddit AMA we had done last year.
How to report these calls and messages
We have raised the issue with the regulators and have been also been constantly educating users on Tradingqna and across our social media channels. If you've received these calls or messages, it would help if you could report them on SEBI and the Exchange tiplines.
Enable DND and report the numbers to TRAI. You can download the DND app here for Android and iOS. If enough people report these messages, it'll make it hard for these guys to keep getting new numbers.
File a complaint on SEBI SCORES
Please do spread the message.