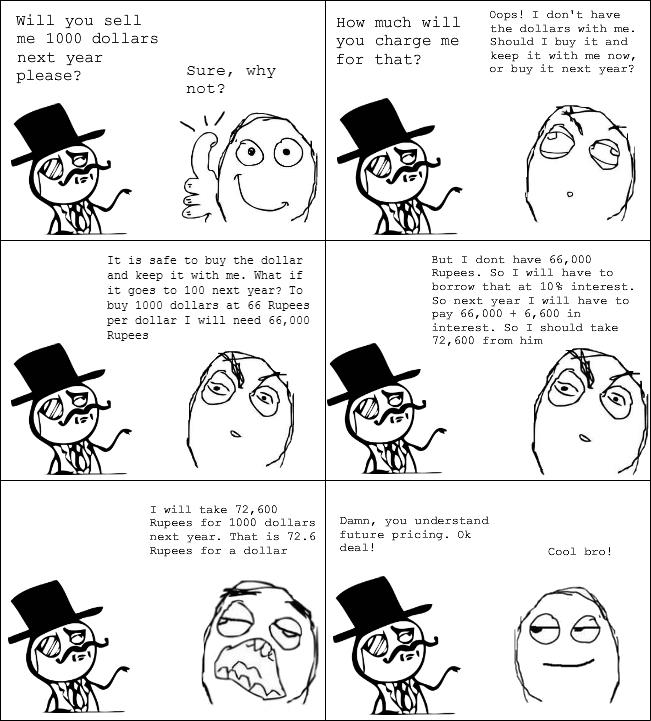 How much should I pay for a Dollar next year?
Imagine your friend getting admission to Computer Science at MIT in the USA for next year. He has to pay a tuition fee of 1000 Dollars. He wants it in September 2014, at the time of admission. The recent rise of Dollar against the Rupee has scared him, and he wants to make sure that he gets Dollars next year at a reasonable price. Because he does not understand Dollar Rupee and all that, he comes to his trader friend – YOU!
He explains the situation. He wants Dollars, and he wants it only next year. But, he wants to lock the price of Dollar today because he thinks Dollar could go to 100. He asks you to give him the Dollars next year. You agree to help your friend. How would you handle this?
Well, to start with, even you think that Dollar is going to go to 75, or 80 or whatever. And because you are a sane person, you do not want to take any risks. So the best strategy is
Buy the 1000 Dollars right away
Keep it in your safe for a year in your locker
Give it to your friend next year
Dollar is at 66, so you buy Dollars for 66*1000 =66,000
So next year, you will take 66,000 Rupees from your friend right? NO, you will take 72,600 from him. How? Let us see
Scenario 1:
You don't have the 66,000 Rupees with you to buy 1000 Dollars. So you will borrow 66,000 from a bank. The bank charges 10% interest rate every year. Actually they charge more, but 10% makes calculations easy. So next year you will have to return
66,000 + 6,600 Rupees interest = 72,600 Rupees
Scenario 2:
You have the 66,000 Rupees with you to buy 1000 Dollars. But instead of buying Dollars with it for your friend you could have put it in an FD at 10% interest and made:
66,000 + 6,600 Rupees interest = 72,600 Rupees
So the correct price for next year is indeed 72,600 Rupees. This also means price of one Dollar for next year is:
72,600/1000= 72.6 Rupees
This price in future at which you will sell or buy Dollars is called the future price or forward price*. This is the most basic part of currency trading.
*There are many differences between the futures and forwards, but for now it is enough to understand that futures are available on NSE and open for you to trade, whereas forwards are only for those big bad banks. So why bother about forwards? 🙂

Abid is an IIM A passout, other than the fact that he probably knows about everything on this planet earth, he is also an expert at trading currency, fixed income and equity. He writes financial blogs and is presently ideating on the next big thing.