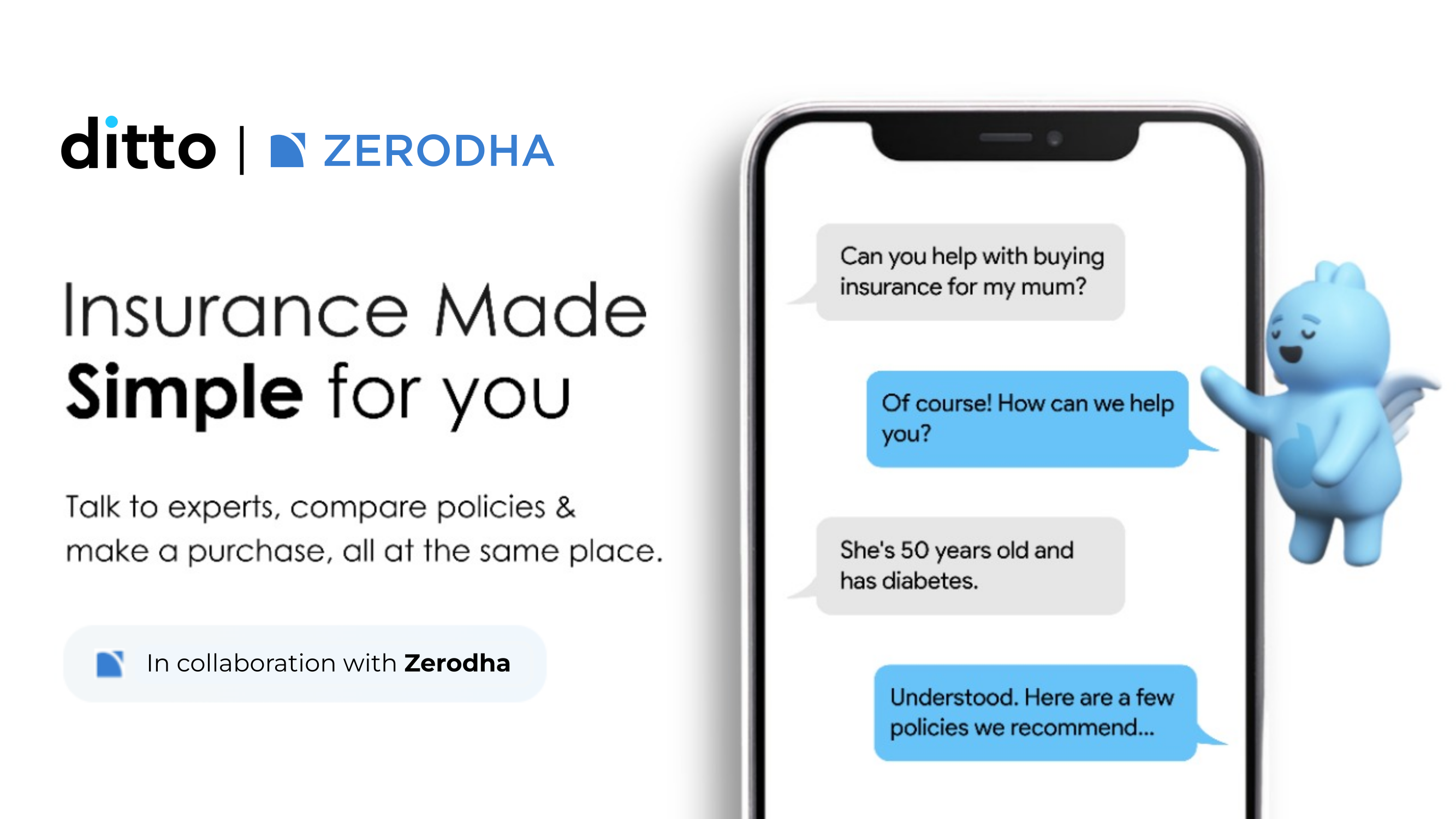 The first time we read the Finshots newsletter (then called Finception), we immediately reached out to the team, trying to figure out if there was a way to associate and help them reach a wider audience. Making it easier for Indians to learn finance is our top priority, and hence partnered with Finshots through our Rainmatter initiative. As we spent time together, we realised that monetising the content might not be good both for the user and the business; we have always believed that, if possible, education should be for free and with no conditions attached. 
One item on our list of things to do for a long time was to build an insurance platform free of conflicts, mis-selling, spam, and, most importantly, advisors to handhold people through the purchase journey. When the team at Finshots decided to solve this problem, we almost instantly said yes to collaborating. This is how Ditto was born. You will now start seeing Ditto within our platforms contextually, for example within the family portfolio view on Console, on the Coin platform, and more.  If you want to learn about insurance, the team at ditto has also written an entire module on Insurance on Varsity.
Find below an introduction to Ditto from the founders, the same team behind Finshots. 
---
In 2019, Finshots began its operation with a simple aim — to simplify financial news to millions of Indians. But the ultimate goal was to always do more than just simplify content. It was to offer meaningful insights to people so that they could make better financial decisions. And as we kept building on the content platform, it became evident that many people were woefully unequipped to deal with the complexities inherent in financial decision-making. Most of which came from the insurance domain. 
None of our readers seemed to have a good experience with insurance. Some complained of the incessant spam calling. Even others complained of rampant mis-selling. But most people were simply confused. There were too many choices, very little quality advice, and almost no real-time support for people looking to simply understand insurance. 
So in January 2021, Finshots took its first step, diversifying from content to advisory, and Ditto was born — to make insurance a little less daunting. 
Today, Ditto is the only advisory-first insurance distribution platform. It helps people understand insurance products, compare viable options, and finalize the purchase, all at the same place.
And while several platforms help consumers compare and buy policies, Ditto is different in one key aspect. Instead of employing a large sales force with an explicit focus on selling policies at any cost, Ditto hires and trains qualified advisors who help customers navigate the complex world of insurance. These aren't sales agents. They truly are advisors. 
The platform also offers a 30-minute free call with one of these advisors and also throws in multiple follow-up consultations at no cost. For people with urgent queries, Ditto facilitates WhatsApp conversations with their advisors as well. 
We also guarantee a completely spam-free experience. You hear from us when you want to. Meaning, that our advisors at Ditto will not bombard you with spammy messages and will only communicate with you when you insist.
Also, in the past 1 and a half years of operation, Ditto has advised close to 1,00,000 customers successfully and currently offers people the option to buy health and term insurance policies. And yes, we do offer claim support and our advisors will handhold you when you are at your most vulnerable.
So if you are looking to buy insurance or simply have your queries addressed, don't forget to check out Ditto.