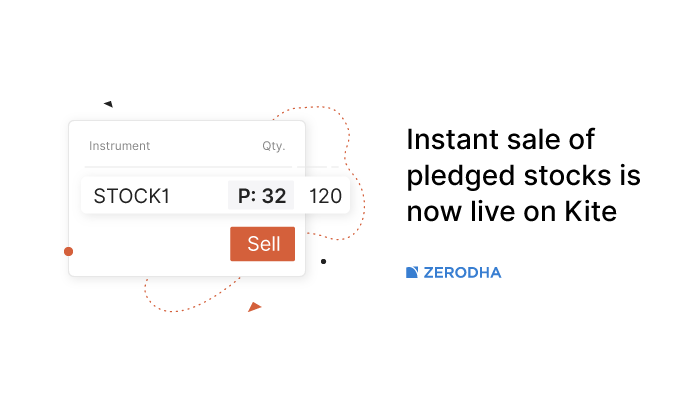 We're glad to announce that we've finally launched the instant sale of pledged stocks feature on Kite, which has been one of our clients' most requested features for several years. This was delayed due to system limitations, but we are now live.
The previous process for selling pledged stocks was to first unpledge them. An unpledge request must be submitted on Console before 3:30 PM. After the request is processed, the stocks would show up to trade under Kite holdings as free holdings on the next trading day. This process can be inconvenient for clients who want to sell their pledged shares instantly.
To facilitate instant sale of pledged stocks, we recently started showing the pledged stock along with free holdings on Kite holdings page. Pledged stock quantity highlighted by a P as shown here.

We have now enabled selling of pledged stocks instantly. Funds from sale can be used for purchasing other securities, trading F&O, etc. Simply place a normal sell CNC order for the pledged + free holdings quantity. When you place a sell order for pledged quantity, the collateral margin given for the pledged stocks in your account will decrease, and when the order is executed, you will receive 80% of the sale credit to your account, just like any other sale of free holdings.
If you continue to hold any F&O positions, it could lead to margin shortfall in the account, which might lead to our risk management team squaring off positions. To learn more, see Why was the position squared off after the pledged holdings were sold?
The reason why there can be a margin shortfall is because collateral margin provided for a stock can be up to 90% of the pledged value of the stock. Selling the stock will give you 80% on the trade day which can lead to lesser margins in the account.
Did you know?
When a sale trade is executed on a stock that has both pledged and free quantity, the pledged quantity is reduced first, followed by the free quantity. However, at the end of the day, any sale obligation will be fulfilled first with the free quantity. To learn more, see Why is the collateral margin reduced when the holdings are sold?
You can continue to unpledge stocks on Console. They will be moved to your free holdings on the next day.
Pledged stocks cannot be sold in the auction and post-market session.
Cash equivalent pledged securities like Liquidbees, and Gsecs cannot be sold instantly.
If you buy back the pledged quantities that you sold on the same day, the pledged quantity will be reinstated, and the collateral margin will be immediately added back to your account.
If you are new to pledging and want to know how to pledge securities in Zerodha, see How to pledge shares to get collateral margin? To know how to unpledge, see How to unpledge shares?