Free and open stock market and financial education
Varsity is an extensive and in-depth collection of stock market and financial lessons created by Karthik Rangappa at Zerodha. It is openly accessible to everyone and is one of the largest financial education resources on the web.
Modules
15 chapters

Investing ensures financial security, and the Stock market plays a pivotal role in this domain, it is a place where people buy/sell shares of publicly listed companies. In this module, you will learn about the fundamentals of the stock market, how to get started, how it functions and the various intermediaries that appertain it.

22 chapters

Technical Analysis (TA) plays an important role in developing a point of view. Like every other research, TA also has its own attributes. In this module, we will discover all those complex attributes of TA, study various patterns, indicators and theories that will help you as a trader to find upright trading opportunities in the market.

16 chapters

Fundamental Analysis (FA) is a holistic approach to study a business. If you are an investor that is looking for long term investments this module will help you understand Equity research, help you in reading the financial statements, annual reports, calculation of Financial Ratio, Analysis and most importantly help you in evaluating the intrinsic value of a stock to find long-term investing opportunities.

13 chapters

Futures Trading involves trading in contracts in the derivatives markets. This module covers the various intricacies involved in undergoing a futures trade including margins, leverages, pricing, etc

24 chapters

An option is a contract where the price of the options is based on an underlying. Options contracts grant the buyer the right to buy the underlying without a compulsory obligation.

14 chapters

The module covers various options strategies that can be built with a multi-dimensional approach based on Market trend involving Option Greeks, Risk-Return, etc.

7 chapters

As a trader in India, you should be informed of all the taxes that are levied on your investments and account. This module overlays the taxation countenance of Investing/Trading in the Markets. It also outlines the various essential topics like calculation of your turnover, how to prepare a balance sheet and the P&L statement, and further about how you can file your Income Tax Returns.

19 chapters

This module covers the Currency,  MCX Commodity contract, and the Government Securities (GSec) traded in the Indian Markets.

16 chapters

The module covers the risk management aspect along with the psychology required for being consistent and profitable while trading

16 chapters

Have you considered building your own Trading System? Well, then this module is for you. The major components of building a good trading system are input parameters and interpreting output alongside decision-making. In this module, we will learn about all the components and much more including the techniques and different types of Trading Systems.

30 chapters

Personal finance is an essential aspect of your financial life as it helps you achieve your short term and long term financial goals. This module encompasses the various aspects of personal finance such as retirement planning, Mutual funds, ETFs, Bonds, and goal-oriented investments.

589 chapters

A series of articles on the psychology of trading, that will guide you mend your thought and prepare you psychologically to become a novice trader.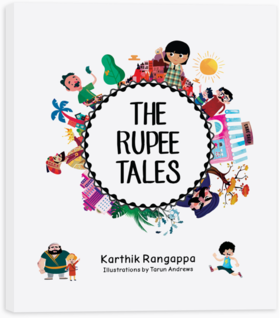 Finance made easy for kids
A box set of 5 books introducing 5 financial concepts to children. Brought to you by Varsity @ Zerodha.
Where does money come from and where does it go? The innocent inquisitiveness of children is what makes them most endearing. Help your little ones understand the financial world through simple stories that make learning fun.
Chapter updates
---
9. Risk Management & Trading Psychology on March 7, 2017

2.1 – Warming up to risk For every rupee of profit made by a trader, there must be a trader losing that rupee. As an extension of this, if a group of traders consistently make money, then there must ..

11. Personal Finance (Part 1) on February 17, 2021

Please note, this is a guest chapter, and I've not authored this. This chapter on ETFs is authored by my colleague, Bhuvan. However, I'll try and answer all the follow on queries that you& ..

11. Personal Finance (Part 1) on February 25, 2021

30.1 – Why macroeconomics? The module on Personal Finance has come a long way with over 30 chapters. I can easily think of another 10 or 15 chapters to add, but I won't do that 🙂 I think we ..

12. Innerworth — Mind over markets on February 24, 2021

Have you ever driven in rush hour traffic in the rain or snow? During dry weather, people cut you off, assuming that you can stop in time. You can probably slow down safely in dry weather, so it isn ..

12. Innerworth — Mind over markets on

In the 1970s, Dr Martin Seligman conducted an influential experiment in which he taught laboratory animals to become helpless upon encountering seemingly hopeless situations. Laboratory animals were p ..
‌
Recent comments
---
earlier you said that we can not execute the option order until expiry date, now we read that option buyer and seller both can execute the order for premium. how? ...

08 Mar 2021

since last few months p/e ratio of nifty 50 on nse is constantly more than 30 before that it was in between 18-30. so in this case what should we do? wait for it to come under the range of 16-18 or invest now. ...

08 Mar 2021

Thank You Karthik Rangappa Sir . ...

08 Mar 2021

Hi I tried contacting support team as well. But i didn't get any good response. They were saying it is the LTP only (which is last traded price) but as there is no liquidity Open/high/low are not updated where the statement itself is conflicting. Whe ...

08 Mar 2021
Don't have a Zerodha account?
Excellent platforms / Free equity investments / Flat ₹20 intraday and F&O trades
Open an account