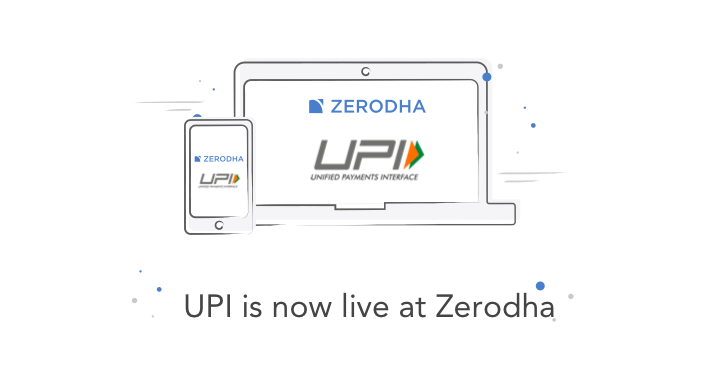 Update [September 2018]- UPI will continue to remain free till December 2018.
Traders,
Unified Payments Interface (UPI) is an instant payment system developed by the National Payments Corporation of India (NPCI), an RBI regulated entity. UPI is built over the IMPS infrastructure and allows you to instantly transfer money between any two parties' bank accounts. The number of UPI transactions monthly has grown 20 times from 5 million transactions last year to over 150 million in Feb 2018 thanks to BHIM, Paytm, PhonePe, Tez, WhatsApp, and others. Since UPI is a layer over IMPS, there is no integration required to be done with each individual bank unlike in case of a payment gateway. UPI transfers can be done from any bank account. A maximum of Rs. 1 lakh per day can be transferred using UPI.
Instant UPI transfers are now live at Zerodha.
Free UPI transactions
While UPI is free for all peer to peer transactions, financial service businesses are charged Rs. 15 per transaction. We've been able to negotiate a deal with our banking partner to keep this free for the first 6 months, and if the transaction volumes are high, even beyond that. Do make sure to use it and let your friends and family know about it too.
Update [September 2018]– UPI will continue to remain free till December 2018.
How do I do it?
Transferring funds using UPI is quite simple. I've described the steps involved in the process below.
Go to the 'Funds' page on Kite and click on 'Add Funds'.
Select UPI as the payment mode in the window that opens up.
Once you select the UPI option, you'll see a field to enter your UPI ID. Make sure the UPI ID is mapped to a bank account that you have mapped with your Zerodha account for the transfer to go through successfully.
Enter your UPI ID linked to your bank account (the bank account must be linked to your Zerodha trading account). Once you click on 'Continue', you'll see this page.
On the UPI app on your phone, you'll receive a collect request from Zerodha. Approve the transfer here. This will require you to enter your UPI PIN on the next step.
Once that's done, you'll see a confirmation on the Zerodha payment page that looks like the image below. Complete the transfer by clicking on the 'Close' button. If you directly close the window, the transfer will not show up on your account instantly, so make sure you do.

And that's it. The funds will show up on your trading account and you can use them to place trades.
Ensure you make the payment from the collect request, i.e., initiate the transfer from Kite/Pi, and not by initiating a new transfer to Zerodha's VPA (UPI ID). If you make a transfer to Zerodha's VPA directly, the money won't reflect in your account and you will have to raise a ticket requesting for a refund. Also, keep in mind that you only transfer funds from the bank account mapped to your Zerodha account.
Happy Trading,