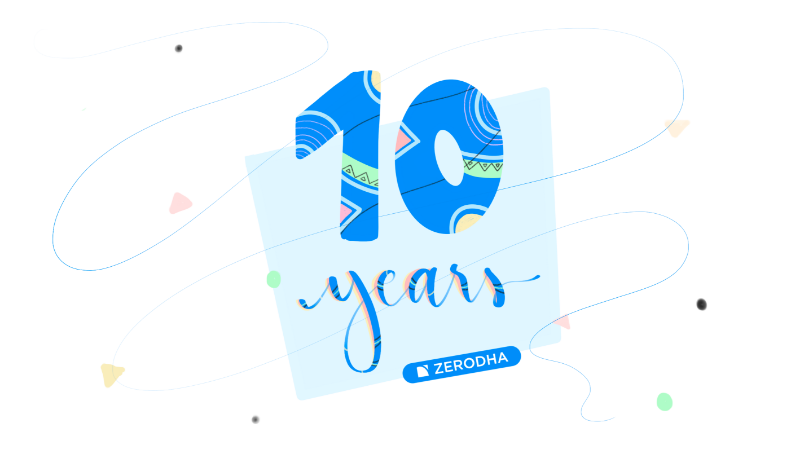 Hindi: इस पोस्ट को हिंदी में पढ़ने के लिए यहाँ क्लिक करें।
Today, the 15th of August 2020, marks ten whole years of operations at Zerodha. Thank you for supporting us in this journey from starting at zero to now being India's largest stock broker. And of course, Happy Independence Day!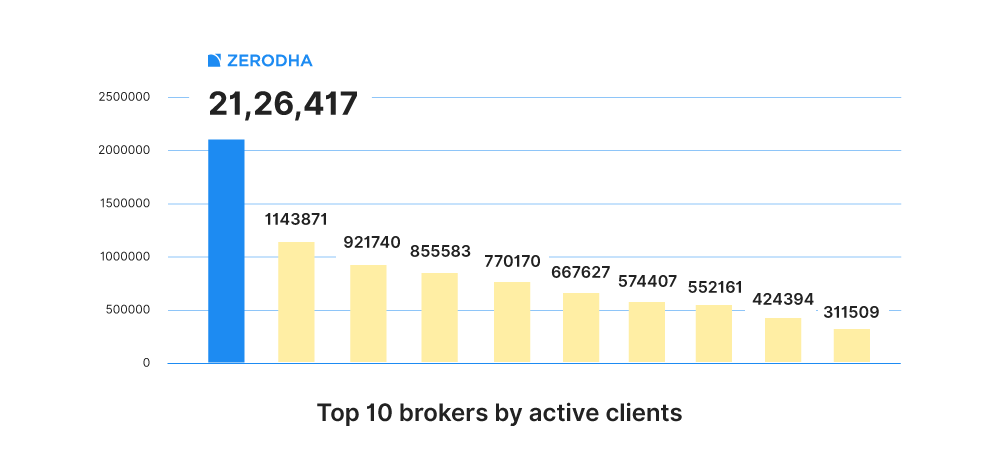 I want to use this occasion to reflect on the past and share our vision for the future with you. Let me start by quickly introducing you to people who have been instrumental in our journey.
Nikhil – Nik (my younger brother): The backbone on whom we could start the business in the first place. The plan back in 2010 was for Nik to trade with the very little money we had left after starting Zerodha to generate enough runway for the retail broking attempt. And that's what he did, and that's how we survived. The best trader I know personally, he has now gone on to start a hedge fund called True Beacon.
Dr Kailash "K" Nadh, our Professor X: Our product journey started in 2013 when K joined us. He doesn't like to be called a co-founder, but he is as much a founder to the business as I am. He is the best developer I've met in my life. He and his 30-member team of X-men/women are the reason our product has evolved so beautifully over the years. Read this post he wrote recently introducing Zerodha Tech to the world. It is a brilliant read!
Venu, our head of operations: He joined us back in 2006 when we ran a small franchise of a large brokerage firm. When we started Zerodha, we had a shoestring budget, and we went with the cheapest backoffice system available to us to run our operations. For several years, until we moved all backoffice operations to our in-house software, Venu and his team had to burn the midnight oil with this clunky system to ensure daily continuity. By the way, check out this funny prank video that I pulled in our old office back in 2014 and how calm and composed Venu is. 🙂
Hanan, our head of customer relations: He joined us before Zerodha, in 2008, wanting to become a better trader. He stopped trading but had this immense amount of energy which he used to build our fantastic support team.
Karthik "Guruji" Rangappa: He almost single-handedly turned Varsity into one of the biggest MOOC educational initiatives on capital markets in the world. He was a client of ours back when we were a franchise, and we soon became friends. He went on to run a startup before joining us in 2014. This is when Varsity was born, with the goal of educating people about trading & markets and growing the capital market ecosystem in India.
And the whole Zerodha family; everyone in our sales, support, tech, Z, account opening, partners, admin, HR, and quality teams for their tireless work and commitment. The teams from Refinitiv (&Omnesys) and ERPNext.
I would also like to thank NSE for their NOW platform; the only reason we were able to start our business with no background in tech back in 2010. Also SEBI, for removing all regulatory arbitrages and levelling the playing field in the Indian broking industry, allowing technology-first brokers to thrive and expand the markets.
And once again, thank you, our client, for placing your trust in us. Your support and goodwill have helped us grow and focus on our products and services without the need to expend resources and energy on marketing and advertising. Thanks to this, we have never raised external funding and can continue to innovate without worrying about debts and obligations.
Check out this short video depicting our product journey over the past 10 years, produced by our learning partner — LearnApp
What's next?
Our goal has always been to provide the best possible execution platforms and the education to go with investing and trading the markets. We started out by challenging the status quo pricing models, pioneering the concept of "discount broking" in India. Today, there is very little discerning difference between "discount" and "full service" broking with pretty much the entire industry moving towards this pricing model. We then built a whole suite of high-quality investment platforms from the ground up right here in Bengaluru, operating at scales that rival even the largest stockbrokers in the world. We created a whole ecosystem of investment platforms via our partnerships through Rainmatter — an initiative that we are incredibly proud of. We pioneered API broking on top of which several standalone businesses working tirelessly towards helping the retail trading community have been built. With Varsity, our blogs, Trading Q&A, webinars on YouTube, our partnership with Finshots, we have created an immense corpus of high-quality financial education that is free and open to everyone irrespective of whether they are our clients or not.
Ten years on, with our technology, services, education, community, and our startup partnerships, we have spawned a whole interconnected universe of products and services, setting an extremely high bar and new benchmarks for the industry. We have commoditised retail investing, making it accessible to millions of users at practically zero cost, equipping them with more high-quality tools than they would probably ever need to invest in the markets. All this, while being completely bootstrapped, driven purely by our passion.
So, what comes next? Now that we feel that we have solved the problem of accessibility and availability of tools and means, what do we focus on next? We need to find a way to help you win when trading the markets.

The next focus: Nudge
Contrary to popular opinion, "winning" when trading isn't really just about that right entry or exit price. Everyone is constantly trying to chase these just right trades by searching for the best trading strategies, advisors, and tips, trying to crack the winning formula. However, winning in the long run pretty much comes down to how one manages risk, what one does before, during, and after a trade — a set of fundamental rules that need to be followed with discipline and consistency. You could have the best entry/exit strategy in the world and still lose money by not following the steps correctly. You could have an average strategy and still be okay if you're doing everything else correctly.
So, what are these rules? In this earlier post, I talked about what it takes to win at trading. Having a stop loss, journaling to know what works and what doesn't, bet sizing, avoiding averaging down etc. to name a view. We have realised that many of these rules can be defined and incorporated right within the trading platform. A platform that not only offers ease of trading but assistance in instilling discipline, increasing the odds of winning.
And that is what we intend to focus on. We have been slowly building towards this goal with Nudge, an integrated "assistant" system on Kite. We recently introduced Nudge risk warnings that pop up when users attempt to trade risky illiquid instruments and penny stocks. This was aimed at first-time investors who had suddenly taken an interest in investing in the markets during the COVID lockdown without knowing the risks of penny stocks, and often, falling victims to scam stock tips. Thanks to Nudge, the penny stock trading volumes on Kite have dropped by more than 50%, probably saving tens of crores of rupees for our customers.
We are now working on building more common-sense, safety and discipline rules into Nudge. What if the P&L impact of ignoring a Nudge warning, for example, risky bet-sizing, could be visualised over a period of time? What if one could study the compromises of discipline in their trading behaviour? That is our vision for Nudge.
Of course, we will continue to build more tools and utilities and improve our systems (have you noticed that recently market ticks on Kite have gotten even faster?) without a doubt. We have built the best investment and trading apps and technological backbone and scale over the last ten years. Now, we're going to focus on helping our customers become better investors and traders.
Once again, thank you for all the support over the last decade!