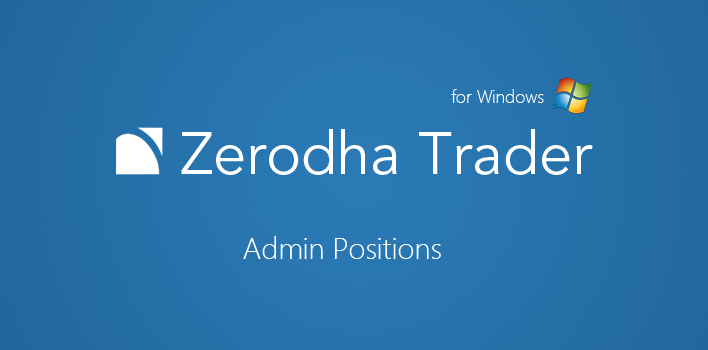 Traders,
We have introduced newer platforms since this post was published. Check out this user manual for Kite and Kite explainer videos here.
We all need a menu to monitor our positions once bought or sold. Admin positions window is where you can do it on Zerodha Trader. You can use the short cut key F11 to access the window or using the link displayed in the image below:
To show you as an example, I had shorted 85 qty of Indian Bank at a price of Rs.77.30 and covered it back at a price of Rs.77.35. When you click on Admin Position you get the following window, please look at the picture for explanation on what each menu means.
If you have bought/sold a contract, you can exit it by taking an opposite position using the buy/sell order window. So for e.g in this case I used the F2 key to sell Indian Bank, so I can use the F1 key to buy it back. But you can use Admin position window to effectively exit positions by using the Square off window as shown below.  Please make sure that you click on get positions button everytime you square off to update the menu.
Daywise/Netwise Positions
While trading, some of us prefer to look at Intraday positions in a different menu and the positions that we are carrying from overnight on another one. We have this facility as well available on ZT. Make sure that you keep it at Netwise by default, because then you risk a position not being shown, for e.g if you were holding 2 lots of nifty from yesterday and you sold 1 lot during the day, the Daywise will show your net quantity as -50 , but your overall position is actually + 50. So keep it Netwise by default, but you can use it as Daywise based on your convenience.
Use the Admin positions window to efficiently track your positions and when in a hurry to get out of all your positions, use square off window.
Happy Trading,