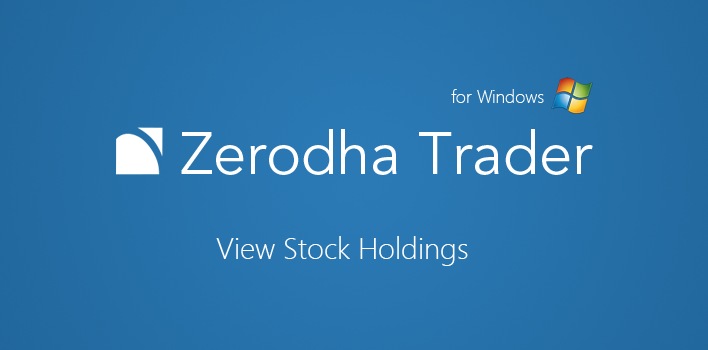 Traders,
We have introduced newer platforms since this post was published. Check out this user manual for Kite and Kite explainer videos here.
Once you have bought stocks/equity for delivery(when you buy and keep it for overnight), you will not be able to view them in your admin positions, for this you will need to use the following menus: T1 Holdings or else Holdings. In this blog, will explain you on how to view your stock holdings.
Suppose you bought 10 shares of Reliance on monday, in India we have T+2 settlement cycle, so the shares will be credited to your demat account only on T+ 2 days, so if Monday is the day you purchased it is the T day, Tuesday is the T+1 day and Wednesday is the T+2 day. The shares will come into your demat account on T+2 day evening( wednesday evening in the example). Once the stock comes into your demat account, you can see it in the Holding file(after T+2 days), until then for the 2 days you can see in the T1 holding file.
Please not that to buy stock for delivery, you need to have a demat account mapped with your Zerodha Trading account. This demat account could be a Zerodha(ILFS) or any other demat account. If you haven't linked a Zerodha demat, you can only buy stocks for delivery, but you can't sell it with us. So if the demat account mapped is not Zerodha's once you have bought shares, you will not be able to view your holdings on Zerodha trading paltform, after 2 days you will see it in your demat account that you have mapped.
T1 HOLDINGS:
To view Holdings on T1 and T2 Day.
HOLDINGS:
To view holdings after getting delivery of the stock.
Please note that when you sell stock without getting delivery(ATST/BTST), you risk an auction penalty, do read this blog for more. To reiterate, this menu will show your holdings only if you have opened a demat account with us.
Links to T1 Holdings and Holdings:
T1 Holdings:
HOLDINGS:
Happy Trading,