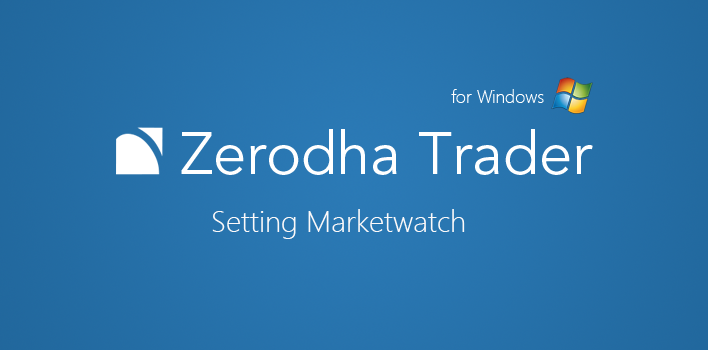 Traders,
We have introduced newer platforms since this post was published. Check out this user manual for Kite and Kite explainer videos here.
As you must all be aware, a marketwatch is the screen where you can watch the price of stocks/commodities/F&O/currencies live. In this blog we will discuss how to setup the marketwatch on Zerodha Trader and also how to add various scrips to the marketwatch.
If you are logging into Zerodha Trader for the first time, you will see what's in the picture below. If you don't see this you can either use the shortcut key Ctrl + G or click on Market > Marketwatch Group Settings.
You can see how to create a marketwatch also. Write the group name and click add New. You will see the group in the box shown below. You can create multiple marketwatches, the picture below shows Equity and FNO marketwatches already created and Commodity in the process of getting created.
Once you are done adding groups, click on Save Groups. You will be prompted to save the groups, click on Yes. Once saved, close the group settings window by clicking on the X mark.
Step2. To see the marketwatch, you have to click on marketwatch profile (shortcut key F4) or click on Market and then select Marketwatch Profile. You will now see a blank marketwatch as shown below:
Step3: A marketwatch is no good without any information on it. On Zerodha Trader you can have 40 different scrips per marketwatch and an unlimited number of marketwatches. The following is important:
1. To add stocks, in the first drop down in the image choose either NSE or BSE, and then in the 4th drop down choose the stock and hit enter. You will see the stock added to your marketwatch. In the example below you will see that I have already added Reliance to the marketwatch and in the process of adding Tata Steel. Make sure you change only the first and the fourth drop down while choosing stocks. You can add 40 different stocks in each group, and you can have any number of groups. See the image below:
2. To add NSE Stock/Index futures, in the first drop down choose NFO, in the third dropdown choose either FUTSTK (stock future) or FUTIDX (index future). In the fourth drop down choose the contract you want. For example, TCS Future (stock future) or Nifty Future (index future) or any other that you wish. In the seventh drop down choose which expiry (every time you get an option of 3 expiry months, choose whichever one). Click Enter. In the example below, you will see me adding a Nifty October Future contract to the marketwatch (Futidx) after already adding TCS Future (Futstk).
Follow the same process but choose BFO instead of NFO, if you want to add BSE stock and index futures.
3. To add NSE stock/index options, in the first drop down choose NFO, in the third drop down choose either OPTIDX (index options, for example Nifty Options) or OPTSTK (stock options). In the fourth drop down choose the contract (Nifty, Banknifty, etc., for index and Reliance, Tatasteel, etc., for stock). In the fifth drop down choose if you want to see calls or puts (CE or PE), and in the sixth choose the expiry month. Once selected, click on Enter and your contract will appear on the marketwatch. You can see in the example below that I have already added Reliance 800 October Calls and in the process of adding Nifty 5700 October calls.
4. To add commodity futures: Similar to adding stock/index futures in point 2. Choose MCX in the first drop down, Futcom in third drop down and expiry month in seventh drop down as shown in the example below:
In all the above cases, if you want to save the marketwatch after adding the scrips, press Ctrl + G or go to the Group Settings menu as shown in the first picture on this blog entry. Once here, click on Save Groups and all the scrips you have added will be saved. Even if you don't do this, while logging out the system will ask you if you want to save the changes made, say " YES" and all the scrips added will be automatically saved.
STEP 4: In the example above, we created three marketwatches, Equity, NFO, and Commodity. As you would have realized, you cannot watch all three at the same time. If you want to set one of the marketwatches as a default marketwatch (lands on this as soon as you are logged in) follow this process. 1. Click on the marketwatch you want as default. 2. Once on this, right click anywhere inside the marketwatch. 3. You will get an option called Actions, click on this. 4. Under Actions you will see an option called Set as default marketwatch, click on this and it will now be set as your default marketwatch. A simpler way to do this is by using the shortcut key. Go to the marketwatch that you want as default and then press Ctrl + M. Every time you logout and login, this will be the first marketwatch you will see.
STEP5: The columns that you see on your marketwatch are set by default on Zerodha Trader. This is set by us and the columns have all the mandatory required fields like Trading Symbol, % Change, etc. If you wan to add more columns or any changes that you want to make to the sequence, this is how you do it: 1. Right click on any of the column title. 2. Once you right click you will get an option called Reposition columns, click on this. 3. Once on Reposition columns, you can add or remove columns as shown in the picture below. Click on Save once you are done. You can also change the sequence on the right side box by selecting the title and moving it up or down.
Now you have the marketwatch set with your favourite scrips to trade.
Happy Trading,