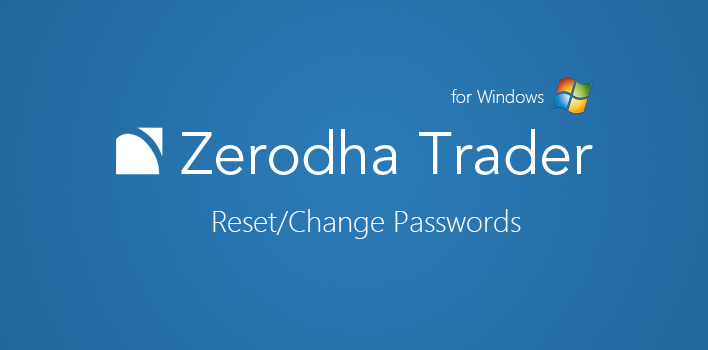 Traders,
We have introduced newer platforms since this post was published. Check out this user manual for Kite and Kite explainer videos here.
Changing Passwords/2FA answers:
If you want to change your existing login/transaction passwords or the 5 answers that you had saved for 2FA questions/answers, follow the steps mentioned below. Once you are logged in, click on the file menu and then click on either change passwords or change 2FA questions.
Resetting passwords if you have forgotten them:
You don't have to call us or email us for resetting passwords if forgotten, you can do it yourself by following the steps mentioned below:
Click on the Zerodha Trader icon, in the login window that opens, click on the link forgot password. After that, mention your login ID, registered email id and PAN number; an email with the new passwords will be sent to you immediately. See the images below:
Resetting 2FA answers if forgotten:
If you have forgotten the 2FA answers you will not be able to login, as show in the image below. The only way to reset the 2FA answers presently is to call us on 080-40402020 or send an email to [email protected] Once you ask us to reset 2FA, we will send you an email with answers to 5 questions (answers will be cryptic alphanumeric). You can use these answers and change them by following the steps to change 2FA answers as mentioned above. Hint: If you save your 2FA answers as 'a' or something similar, you will never forget them. 🙂
Happy Trading,