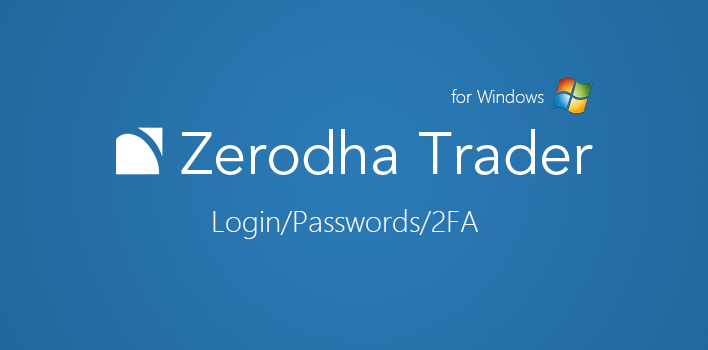 Traders,
We have introduced newer platforms since this post was published. Check out this user manual for Kite and Kite explainer videos here.
Once the installation of ZT is complete, you will require the login ID and password before starting to trade. You would have received your passwords in an email from [email protected]
Follow the process mentioned below to login to the trading platform.
Step 1: Login to your registered email ID and look for an email from [email protected] You will see an email which would look like what is shown below:
Step 2: As you will see the login ID at Zerodha is a six character alpha numeric ID, 2 alphabets followed by 4 numerals.
You will also see 2 passwords: a Login password required to login to the platform and a Transaction password required before placing a trade. Do note that the transaction password won't be asked every time you trade, it will be asked only once when you login to the platform or whenever you logout and re-login.
Step 3: Double click on the Zerodha Trader icon on your desktop(you can also right click on the Ztrader icon and click on the option "run as administrator"), mention your login ID and click on Go. Now mention your password and click on "confirm scrips download' and "launch plus" and then click on login. Look at the image below:
Step 4: As an authentication measure, you are now asked to choose a display image from a list of 5 images. This image will be displayed every time you login subsequent to this login. Choose any 1 image and click on save as shown below:
Step 5: As part of a 2-factor authentication (2FA) mandated by SEBI, we need 2 extra levels of security other than just the login password. The display image mentioned above acts as the first authentication and for the second authentication, you are asked to answer 5 questions amongst a random bunch of questions. Every time you login after that, you will be asked to answer 2 of these 5 questions randomly, failing which you will not be able to login. Ensure that you are sure about the answers you mention and remember them, but if you want to keep it easy, you can answer all the 5 questions with just ' a' or something similar. Check out the image below:
Step 6: Either the first time you login or every time you reset your password, when you are logging in you will get the following message next, Click on OK.
Step 7: You will see the following image after this. Mention your old login password that has been sent to you on the email (step1), Change the password, by mentioning the new login password twice. Once you change the login password, you will be prompted to change the transaction password. Follow steps 1 to 4.
Step 8: Once you change the password, you will see a progress bar which shows the download of scrip files. This might take upto 15 minutes the first time you are logging in and you will see the progress bar slowing down or stalling at 35% as almost 16000 different F&O contracts will be downloading at this time. Check the image below:
Step 9: Once the progress bar above reaches 100%, you will see the window as shown below. You will see a window asking if you are already registered on Nest Plus or not, and if not you will get an option to register. Your account with Zerodha will come to you pre-enabled on Nest Plus, but this might take upto 24 hours. If you don't want to wait for that long, you can go ahead and register immediately, it will be an instant registration. Details of Nest plus will be mentioned in a future blog. Nest Plus is used for various advanced features as mentioned in this link.
You are logged in and set to go now!
Happy Trading,