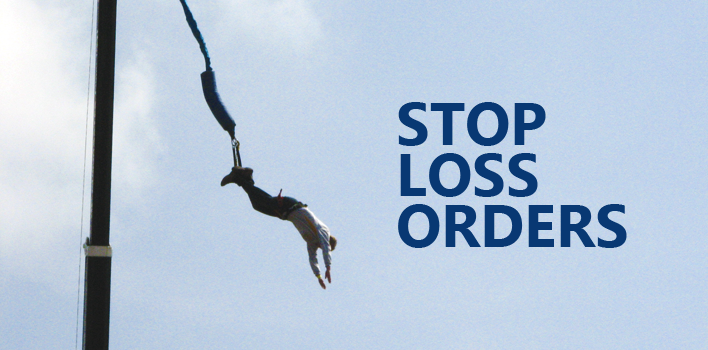 Traders,
We have introduced newer platforms since this post was published. Check out this user manual for Kite and Kite explainer videos here.
What is a Stop Loss order?
When you are holding a particular stock/F&O/commodity, you fear the losses that can happen when the price starts moving against you. If you place an order to limit such a loss it is called as a Stop Loss order. So for example, if you have bought a stock at Rs 100 and you want to limit the loss at 95, you can place an order in the system to sell the stock as soon as the stock comes to 95. Such an order is called as a Stop Loss, as you are placing it to stop a loss which could be more than what you are ready to risk.
How to place a SL/SL-M order?
The difference between a stop loss (SL) and a normal order is the trigger price. In a normal order, you get to choose either limit order or market orders. In a stop loss order you choose limit or market, but with a trigger price. What a trigger price does is that it activates your order which otherwise is inactive.
1. You will have a selling stop loss if you have bought an instrument (stock, F&O, etc).
In the above example, when you bought the stock at Rs 100, you will also place a sell stop loss order with a trigger price of 95. What this does is when the price of the stock goes to 95 or lower, a selling order is triggered. You can choose if you want this selling order as a limit order or market order. If you choose a SL order with a selling order as market price it is called SL-M, otherwise if you have to mention the limit price it is called a normal SL order.
In this example, if you choose SL-M and keep the trigger as 95, as soon as stock goes to 95 or lower a selling order is triggered at the exchange at market price. If you choose SL, as soon as stock goes to 95 or lower, a selling order is triggered at the exchange with the limit price mentioned by you. Please do understand that if the Stop loss order is sent as a limit price, there is no guaranteed execution of the stop loss as the limit order can also become a pending order .See the pic below:
In Case of SL (stop loss with limit), when the stock comes to trigger price or lower a limit order is triggered at the exchange. *** If you don't see SL-M here, send email to [email protected], it will be enabled in 24hrs
It is important to remember that with SL orders, because you are triggering a limit selling order there is a chance that when market is coming down fast, your selling stop loss limit order might become pending. To avoid this risk the best bet is to trade using SL-M as shown below.
Ensure that you are careful while placing a SL-M order especially when trading bigger quantities. As it is a market order, you might have an impact cost if the instrument is not liquid (lesser stocks trading).
2. You will have a buying stop loss if you have sold an instrument (stock, F&O, etc).
Assume you have shorted at 100 (expecting the price to come down). Your loss will happen when the price goes above 100 and you want to stop the loss at 5 points (@ 105). In this case you will have to put a buying stop loss either SL or SL-M.
In case of SL, see the pic below:
in case of SL-M, see the pic below
Some other things to remember:
1. Once a stop loss order is placed and if you want to modify it, you can go to the order book (F3) and click on Modify to change the price.
2. Your trigger price should be below the current price (for selling stop loss) and above the current price (for buying stop loss), otherwise the stop loss will get triggered immediately.
3. Stoploss is a product offered by the exchange. Once the SL order is placed the trigger and corresponding order is at the exchange itself. So  even if a brokers trading systems were to  be down, your stoploss order wont' be affected.
Hopefully this clarifies the query on Stop Loss orders.
SL orders to enter new positions:
Assume Nifty 5700 puts is trading at Rs 25. You want to buy this option only when it goes to 26, how do you do this? Because if you put an order to buy at 26 it will get executed at the market price which is lower than 26. In such a scenario you can use SL orders to enter a fresh position. So what you could do is to put a buying SL/SL-M with a trigger price of 26. What happens now is that only when the put option goes above 26, will your trade get executed. This feature can be used by people who like to take trades only when a particular stock/contract moves in your direction.
Happy Trading,