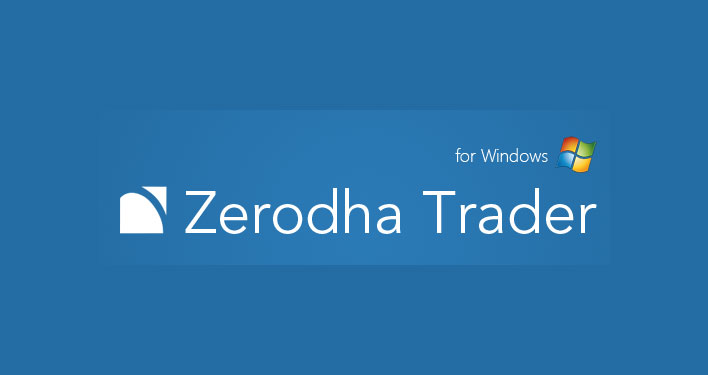 Dear trader,
We have introduced newer platforms since this post was published. Check out this user manual for Kite and Kite explainer videos here.
Zerodha Trader(ZT) is the trading platform at Zerodha and has some cool features that can aid your trading. Some features are accidentally discovered by our regular traders whereas some others stay obscured for the longest time. We've tried to uncover 5 such features for you.
1. Filters
Did you know that you can add filters to your positions and orders window on ZT? Adding filters to sort data can help you find what you need quickly. Imagine you have had multiple trades on multiple scrips on multiple exchanges today and you wish to find a particular trade to crosscheck on something. You can do this either by scrolling through all the orders and giving yourself a hard time, or you can do this by simply using the Ctrl + F shortcut key on your Positions or Orders screen and start sorting your data. Check out the screenshots given below for a visual depiction of the same. Some of you may be able to see orders only from the time you logged in (if you're logging in the second time on the same day), so you can click on Filter Orders < Reset. Tip: If you press Ctrl +3 on the Orders window you can see both Open and Completed orders.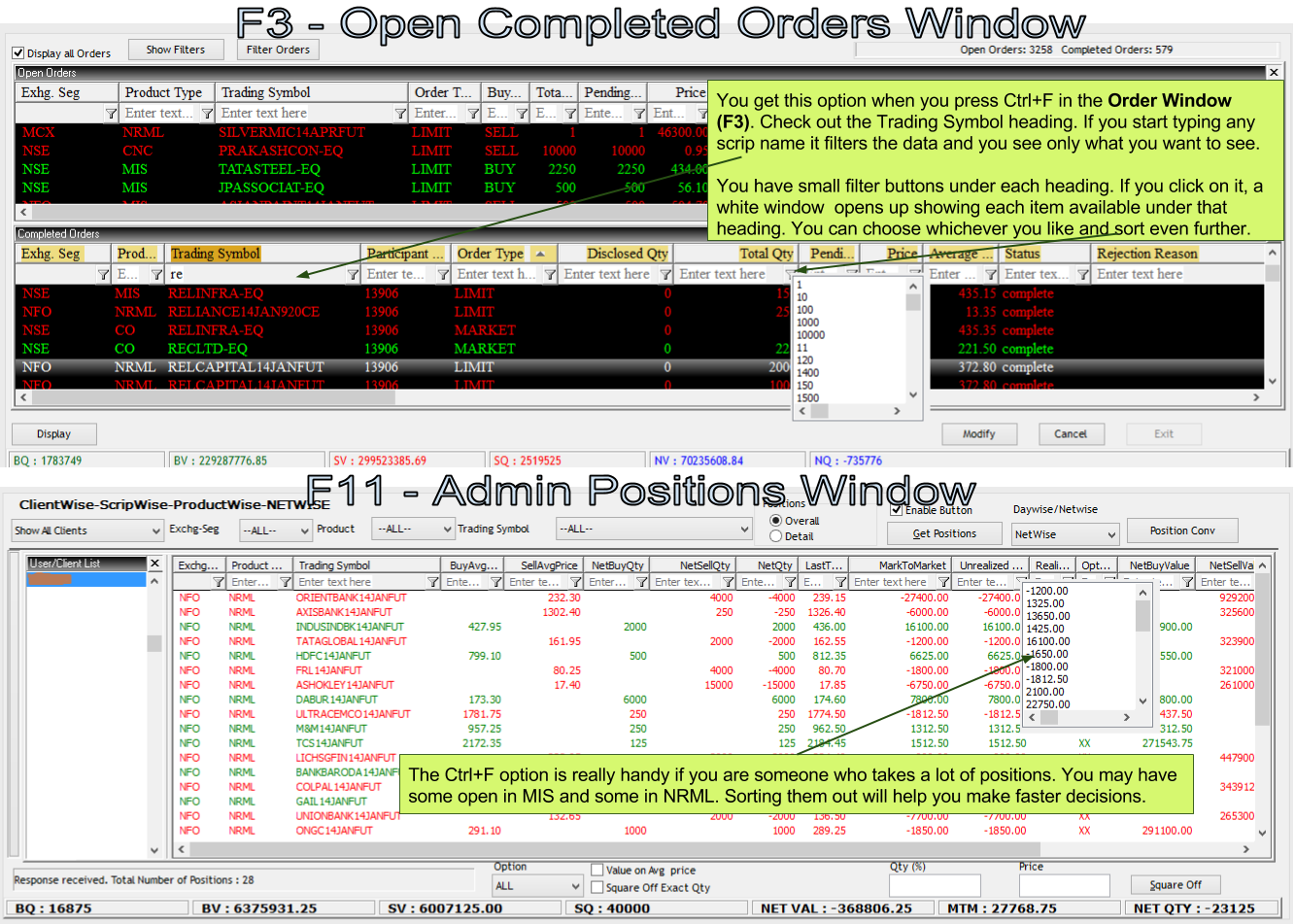 2. Heat Map Bar
We all have our favorite scrips and like watching them regularly by having them up on our market watch. How do you know which of your stocks within a market watch group are performing well? There's a feature called Heat Map which can be invoked by pressing Ctrl + F on your regular market watch. When you first press Ctrl + F on the market watch you see a very small Heat Map window. You can drag and resize the window as per your need. I've got two Heat Map windows lined up below where you can see the first box on the left is blue and the last box on the right bottom is red. The biggest gainer will be the bluest and the biggest loser will be the reddest – everyone else in the middle will have different shades of blue and red. In the second screen shot you can observe that by right clicking you can sort the data as you wish. A couple of things you need to remember while using this feature is that there may be flickering on the Heat Map window if you have lots of scrips and that you can't place orders directly from the Heat Map window.
Update: the Heat Map Bar is supported only on the older version which is 3.10.57.97.7 so if you're using 3.10.57.100.11 the feature has been removed because it was flickering a lot if you had too many scrips on your market watch. The developers decided to make way for stability here.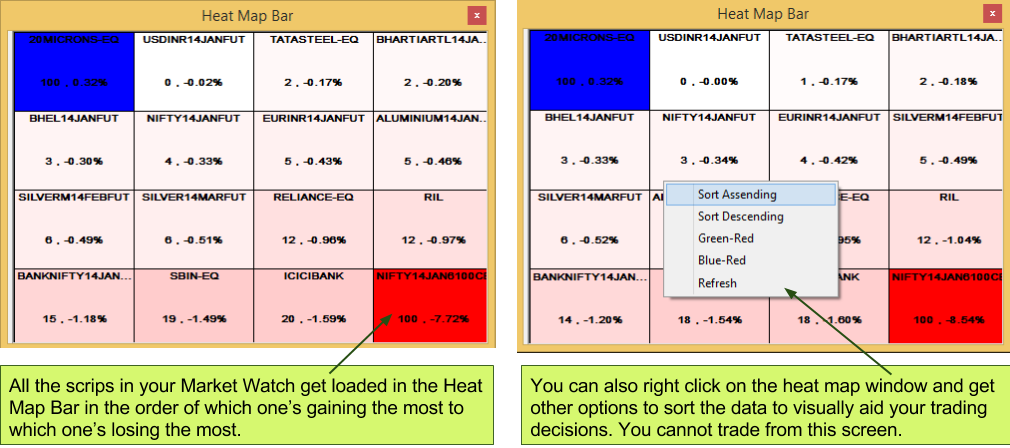 3. Ticker Scrips Bar
The shortcut key to invoke the Ticker Scrips Bar is Ctrl + K. You can add/delete scrips on the Ticker Scrips Bar using Shift + K.  Let's not forget that all the initial stock market millionaires in this world made their money by reading the ticker tape. The Ticker Scrips Bar isn't exactly the ticker tape, but it is the closest you'll get to the tape in this day and age. Check out how it looks and operates below. You can also do some reading about ticker tapes here.

4. Twitter Bar
There was a news article very recently about how most promoters and CEOs of companies are using Twitter to make crucial announcements. The stock prices of these companies shot up or shot down based on what the CEO said on Twitter! I mean, I've been in the markets long enough but never seen such market movements without an official press release. Yes, there have been speculative movements before 'expected' results or announcements, but this is a new thing. I would imagine most big corporations in India have also started using their Twitter accounts to speak to the public at large. What you need to do is this:
1. Create your own Twitter account if you don't have one already.
2. Start following all the bigwigs. That's all.
3. Click here to follow Zerodha.
Once you've done that, wait for their crucial announcements on Twitter. ZT has a feature where you can import your Twitter feeds right next to your market watch so there is no delay between receiving the news and placing an order. Check out how it looks below.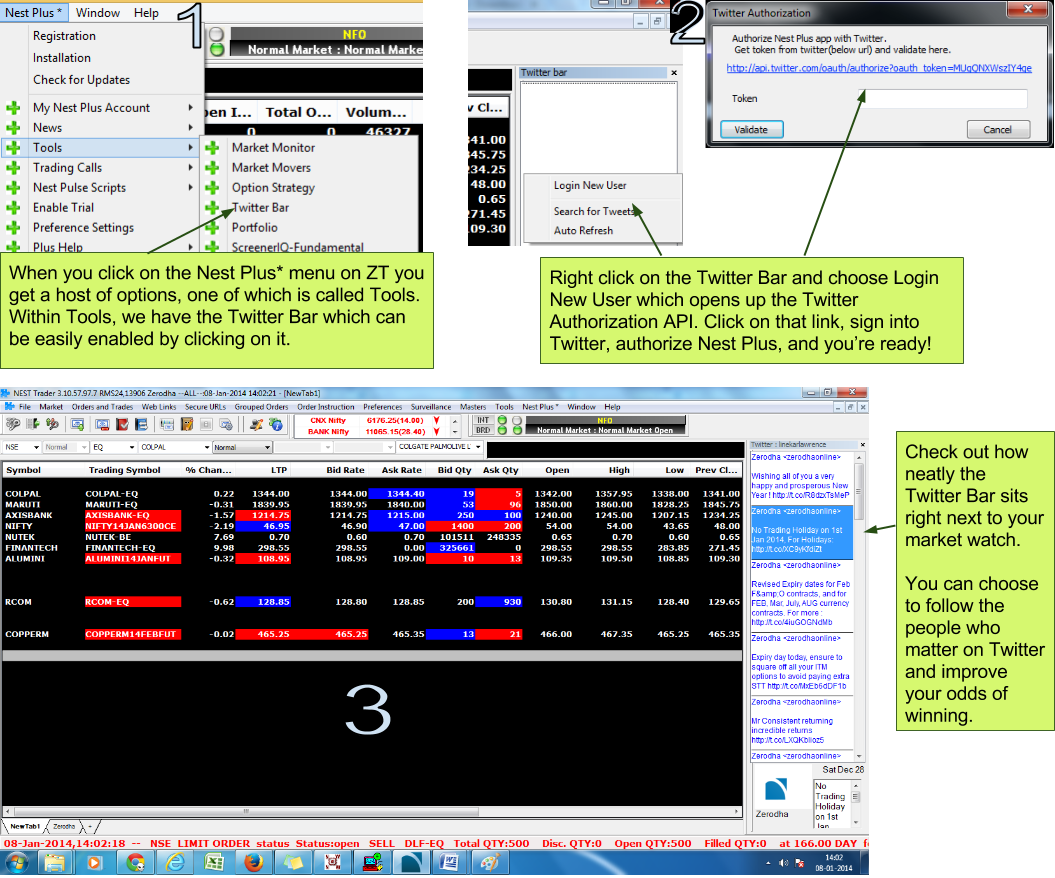 5. Market Monitor & Market Movers
Market Monitor: A few technical traders enter only when the stock's hit an all-time high or an all-time low. They may also enter the stock if it's near the day's high or low, but how can they find the stocks which match these conditions? Market Monitor does just that. It shows you stocks which are at their 52-week high/low, day's high/low, and close to the upper/lower circuit. You can quickly trade any stock which is seeing action before the TV or online news tells you about it by just pressing F1 or F2.

Market Movers: There's another small feature on ZT that lets you track stocks (only NSE) based on criteria like biggest gainers, biggest losers, volume leaders and value leaders. You can track this information by deciding the price range you like. For example, if you like trading stocks which are in the price range of Rs. 100 to 120, you can easily key in this price range and follow the stock.

These are some features of ZT which we're sure a few of you hadn't been aware of,  I'm sure these tools will be very handy.