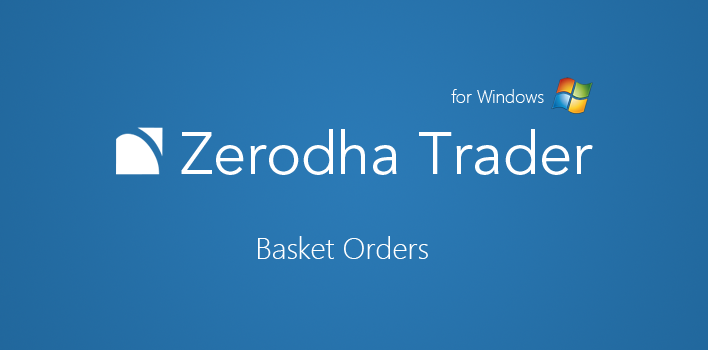 Note: Basket Orders have been disabled on Zerodha Trader. Alternately, you can use Sentinel to place Basket orders
Traders,
Basket orders are a utility available on Zerodha Trader, where you can place multiple orders at one time. You can also export the basket orders to an excel sheet, make changes to them and use the same to place an order.
Please note that even if you use the basket order facility with multiple scrips and place it all at one time, different order numbers will be generated for different contracts and hence the brokerage will be Rs. 20 for every contract on the basket order and not for all of them together.
To access the basket order window, either use the short cut key Ctrl+B or look at the image below:
Once the basket order window is open, choose the drop-down box to select the contract and click on the Add button as shown below. Use the same process to add multiple contracts. Once all the contracts/stocks are added, you can either place the order by clicking on the Place button or you can export the same order to an Excel and save it on the computer. Whenever you wish to place the order, you can use the browse button and upload the Excel and place the order.
Orders can be either placed as limit order or market order; if a market order is placed it will get executed immediately, if it is a limit order it will remain pending till it gets executed.
You will see a reset button in the basket order window, this button basically resets the basket order window, so if you have added 2 contracts and click reset, it will remove both the contracts. Please note that this won't reset if the basket order is already placed.
You can save different baskets on your computer and place it whenever you wish. See the image below:
Happy Trading,