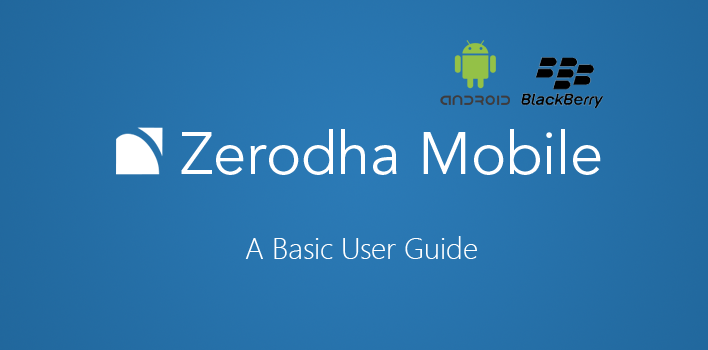 Traders,
We have introduced newer platforms since this post was published. Check out this user manual for Kite and Kite explainer videos here.
We have just released our new mobile application for android, and blackberry. This post will give you an overview on using the app.
What platform does Zerodha Mobile (ZM) work on?
Android and BlackBerry. We recommend Android 2.3 and above. No other mobile operating system is supported just yet but soon we intend to have it available for all mobile platforms. ZM is free for all Zerodha clients right now.
Where can I download Zerodha Mobile from?
1. Zerodha Mobile can be downloaded by clicking on this link directly from your mobile browser. Make sure you have enabled installation of apps from non-market sources on your mobile. To do this, go to Settings > More > Security on your Android device. In Security, choose the option which says "Unknown Sources." Selecting this option allows you to install apps which are not from the Play Store.
2. You can go to our Downloads page and just scan the QR code from your mobile or click on the link to download as highlighted below.
How do I install Zerodha Mobile?
Once downloaded, just click on the NESTMobile.apk file and follow the instructions on your smartphone to complete the installation. After installation, the app can be found in your app list as Zerodha Mobile Trading. Check out this quick video to see how you can install Zerodha Mobile on your smartphone in no time.
Zerodha Mobile is enabled for all the exchanges Zerodha is a member on, so you can trade on Equity, F&O, Commodity, and currency on NSE, BSE, and MCX.
Basics of using Zerodha Mobile (ZM)
Login Screen
The layout for the login screen is very simple. You need to enter your Client ID and password on the first screen you see to register your device – this is a one-time process. Note that you can register only 3 devices for mobile trading.
Once that's done, you're taken to a new screen on which you have to tap on the Zerodha logo (shown below) and enter the trading login screen. Here you can enter your username and password which is the same across all the platforms of ZT. The system is intelligent and will remember your username for the next login. 🙂
Home Screen
Once logged in, you get to a very well laid out home screen complete with  all the necessary shortcuts to get to any part of your trading platform at any time. Check out the screenshot below to get a visual aid on how your mobile trading platform would look. The following images have been captured on a Samsung Galaxy smartphone with a large screen.
Market Watch
On the home screen of ZM you can see a lot of widgets that perform a specific action. Clicking on the Market Watch widget takes you to your universal market watch which will have the same scrips on all the platforms available with us, so you can seamlessly trade on any device you own. We have some simple, yet thoughtful features which add a nice touch while using the app. For example, you can side swipe on the MW to see other details of a scrip instead of just Price and Percentage Change which is what can be visible on a mobile platform with limited real estate.
Order Placement
Tapping on a scrip opens up the Order Placement window for you. If you look at the screenshots given below,  in the first one on the left you'll notice that a new window has opened up which gives you additional options like Buy, Sell, Set Alert, MBP, and Remove Scrip. Tapping on MBP (Market By Price) gives you complete details of that scrip. It also gives you the Best 5 on that scrip – live, just like your desktop app. On choosing Buy or Sell the program automatically color codes the buy order as blue and sell order as red to give you a visual heads-up on what your action is.
This is not the only way to place an order. You can tap on the Buy/Sell widget on the right-hand bottom of your app's home screen and search for any scrip that trades on any exchange and place an order almost instantly.
Note: you can place all types of orders on your mobile except Cover Orders. This will be enabled on the next version of your mobile app.
Positions
As we trade, it becomes essential for us to monitor our positions regularly. With Zerodha Mobile this is a piece of cake. Just tap on the Positions widget and you're taken to a screen which shows you all your positions. Tapping on any individual position gives you two additional options. One is to square off that particular position and another one is to partially convert that position from MIS to NRML and vice versa. Check out the screen shots below:
Limits – Cash Margin
When you're mobile, you need to have information at your fingertips – literally. On ZM, we have two distinct ways for you to know how much you have in your account.
1. Use the Limits widget. This widget gives you complete details of how much cash you have in hand, how much cash is blocked for your positions, and how much collateral benefit is available on your account due to your equity holdings. This information is real-time.
2. You can also use the "Check your cash balance" link (see image below) for a quick overview of the actual free cash available to enter a certain position at the time of order placement. A small popup gives you these details.
Trade Book/Order Book
1. Trade Book: This widget lets you see all your trades executed in one window. Tapping any scrip will take you to a new screen where you have an option to view the entire trade history for that particular scrip. You can also convert your position from here.
2. Order Book: If you look at the screenshot below (right side), you'll see there are two ways to check your open, complete, rejected orders. One way is to use the Order Book widget available on your home screen. Although, you may never need to use that widget simply because all your orders show up on the home screen laid out in a very simple to read and understand fashion.
Quotes/Charts
The quotes widget is something like an extended stage on a video game. You suddenly see options that you hadn't thought existed before. For example, did you know that you can view the Open Interest on any F&O scrip by going to the Quotes page? What's more, you get a small little chart for the scrip you sought a quote for on the same window. Tapping on the chart expands it to fit your entire smartphone screen. If the pattern interests you, take a trade from that screen instantly. Check out the screenshot for Nifty below.
The new release of ZM has loads of new features and increased stability. This article is an introduction to Zerodha Mobile to help you get started, do check out our user manual for in-depth information.
Do give us your feedback,
Happy Trading,