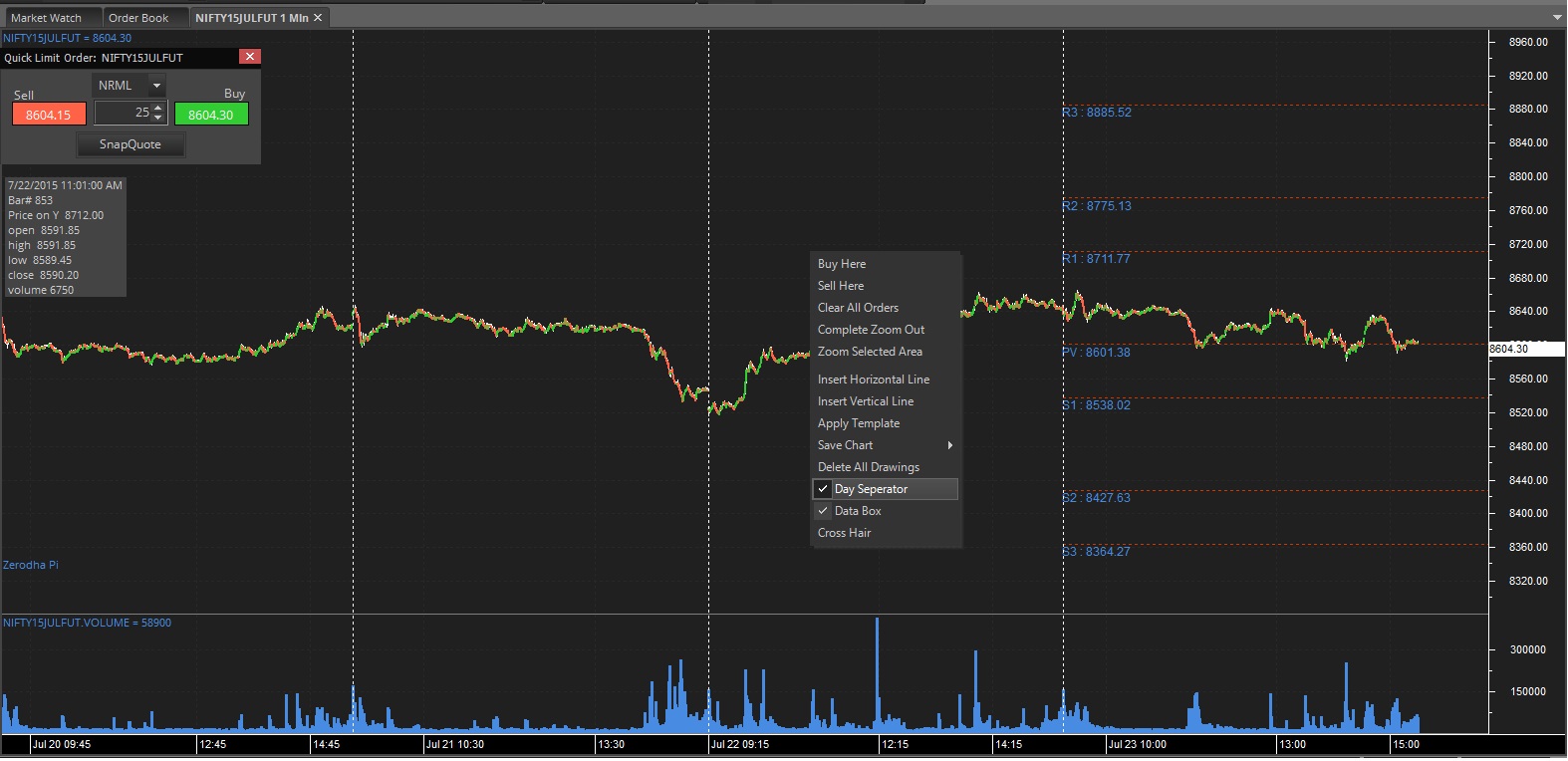 Traders,
We have a new release of Pi, and here is a list of everything new in this version.
Firstly, if you have any version lower than 1.0.0.6, make sure you uninstall the old version and install the latest from Q. If you have Version 1.0.0.6 or higher, click on "Check for updates" in the help menu. To check for the version, click on About Pi in the help menu. After the latest update it should show version 1.0.0.6 date: 24/7/2015.
Day separator lines with support (S1, S2, S3), resistance (R1,R2,R3) and Pivot line (PV)
When you add the day separator line, you can also see all the three support and resistance lines by default. Since the points S3 and R3 are usually far away from the current market price, the chart might shrink. Clicking on the up arrow will zoom into the chart showing the nearest S, R, & PV lines.
One click 1-minute chart
Double click the chart icon on the market watch to quickly initiate a 1-minute chart.
Data table and Crosshair
Data table opens by default. Hovering your mouse over any candle will show all the data points of that candle on the data table. You can also open crosshair by right clicking on the chart.
Easy selection of periodicity/interval of charts
Chart settings
Click on user settings (Ctrl +P) and select chart settings.
OHLC issue with daily charts fixed
Earlier, we used to form daily candles using all the 1-minute candles for a day. There was a mismatch because of this with other charting platforms. In the new release, we use the end of day  details from NSE bhavcopy to form the daily candles, so the daily charts will match exactly with other charting platforms.
Compact snapquote
By clicking on user settings you can also open a compact snapquote.
Other updates
Bracket order selection made easy
Shortcut key on the charts, Home – Navigate to first 100 bars, End – Navigate to last 100 bars
Indicator names abbreviated on charts
Zoom in/out ,scroll Left/right smoother,dragging chart left/right implemented
Other GUI changes
We will look at adding new indicator requests from the next release onwards.
Happy Trading,