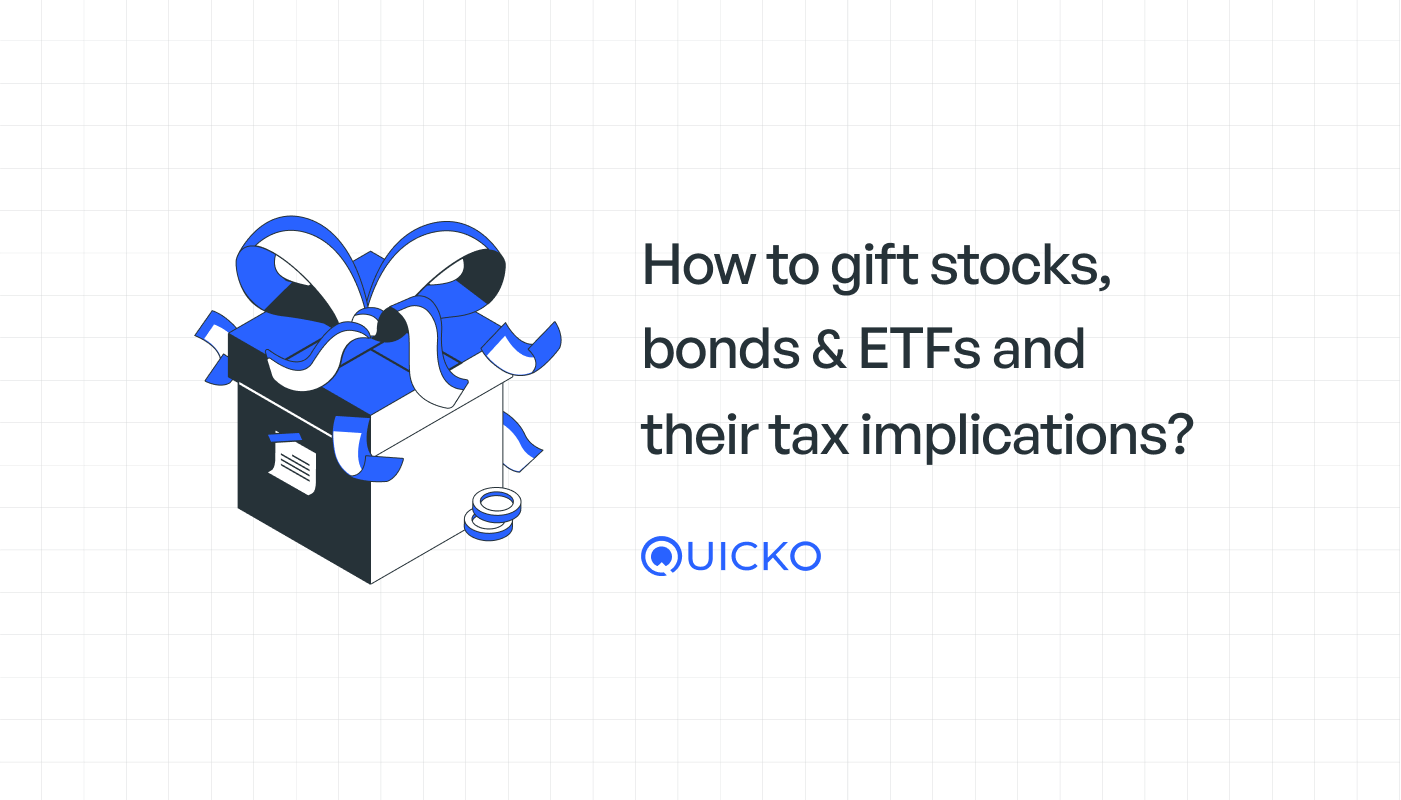 Happy Diwali everyone, if this festive season you are looking to gift something to your loved ones, we think stocks, ETFs, and bonds are the perfect gifts, and they are quite literally gifts that keep on giving. They are also a great way to introduce your loved ones to investing and capital markets and in turn, help in the financialization of our country. Watch this below video to know how you can gift stocks, ETFs and bonds to your loved ones.
Understanding tax implications on gifts in India
The festive season in India is a time of joy and celebration, marked by various occasions, including Navratri, Diwali, followed by weddings. It's also a season when gifts are exchanged as a symbol of affection and celebration. However, it's crucial to be aware that gifts, especially those of substantial value, can come with tax implications.
Today, we'll explore the tax implications of gifts in India, what qualifies as a gift according to the Income Tax Act, and how to calculate and declare the taxable value of gifts.
What is considered a gift according to the Income Tax Act?
A gift is defined as an asset received from an individual or organisation without making any payment, or by paying less than the fair market value.
The Income Tax Act categorises gifts into three types:
Monetary Gifts: This includes sums of money received through cash, cheque, draft, or bank transfer.
Gift of Movable Property: Gifts such as jewelry, shares, bonds, paintings, or even Virtual Digital Assets (VDA), like cryptocurrencies, fall under this category.
Gift of Immovable Property: Real estate assets, like land and buildings (residential or commercial), are considered gifts of immovable property.
Tax implications on gifts in India
As per current tax laws, gifts received by an individual worth more than ₹50,000 in a particular financial year are taxable. If the total value of gifts received in a year exceeds this limit, the entire value is subject to taxation.
The recipient of the gift is liable to pay taxes on it, and these gifts are categorised under 'Income from Other Sources (IFOS)' and taxed according to the individual's income tax slab.
However, there are exemptions:
Gifts from relatives: Gifts received from specified relatives, such as spouse, siblings, uncles, aunts, grandparents, in-laws, and more, are non-taxable, regardless of the value.

Source: Income Tax Department
Gifts on marriage: Any gifts received on the occasion of marriage, regardless of their value, are exempt from taxes.
Gifts under a will or by inheritance: Inherited assets are not subject to taxes.
Gifts from designated institutions: Gifts from certain designated institutions like local authorities, educational institutions, hospitals, and charitable organisations are tax-exempt.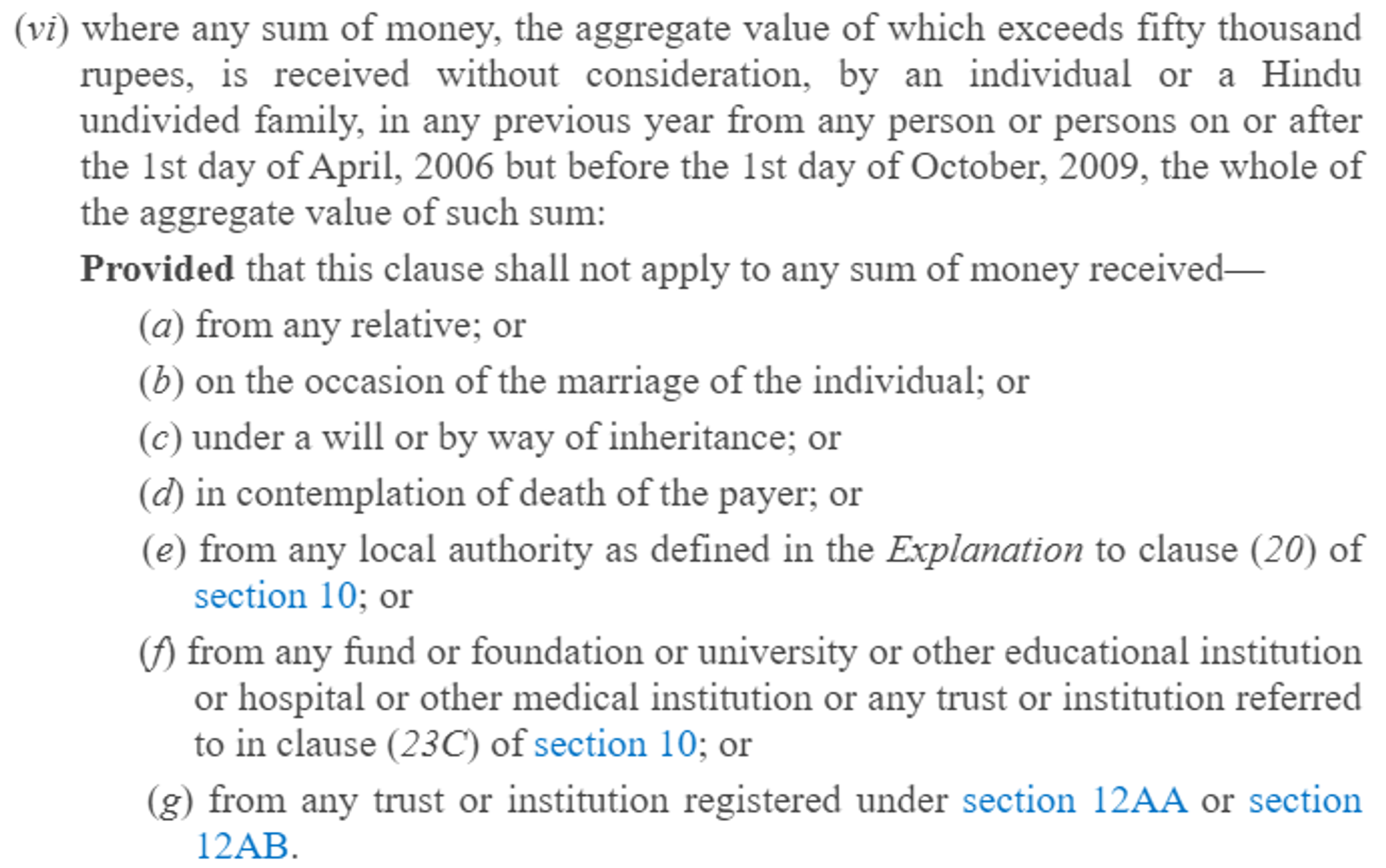 Source: Income Tax Department
It's important to note that any income earned from investing the received gifts or assets is taxable. For instance, interest income from gifted money, rental income from gifted property, or capital gains from the sale of gifted shares is taxable.
Calculating the taxable value of a gift
The Income Tax Act provides specific rules for calculating the taxable value of gifts. Here's how it works:
Monetary Gifts: If you receive cash, cheque, draft, or other monetary gifts exceeding ₹50,000, the entire amount is taxable.
Immovable Property: If you receive immovable property without any payment, and the stamp duty value of the property exceeds ₹50,000, the taxable value is the stamp duty value.
However, if you do make a payment but the amount paid is less than the fair market value for immovable property, the difference between the stamp duty value and the purchase price is taxable, provided that it exceeds ₹50,000.
Lastly, the taxable value of movable property is also calculated similarly to that of immovable property.
You can also check the table below for details.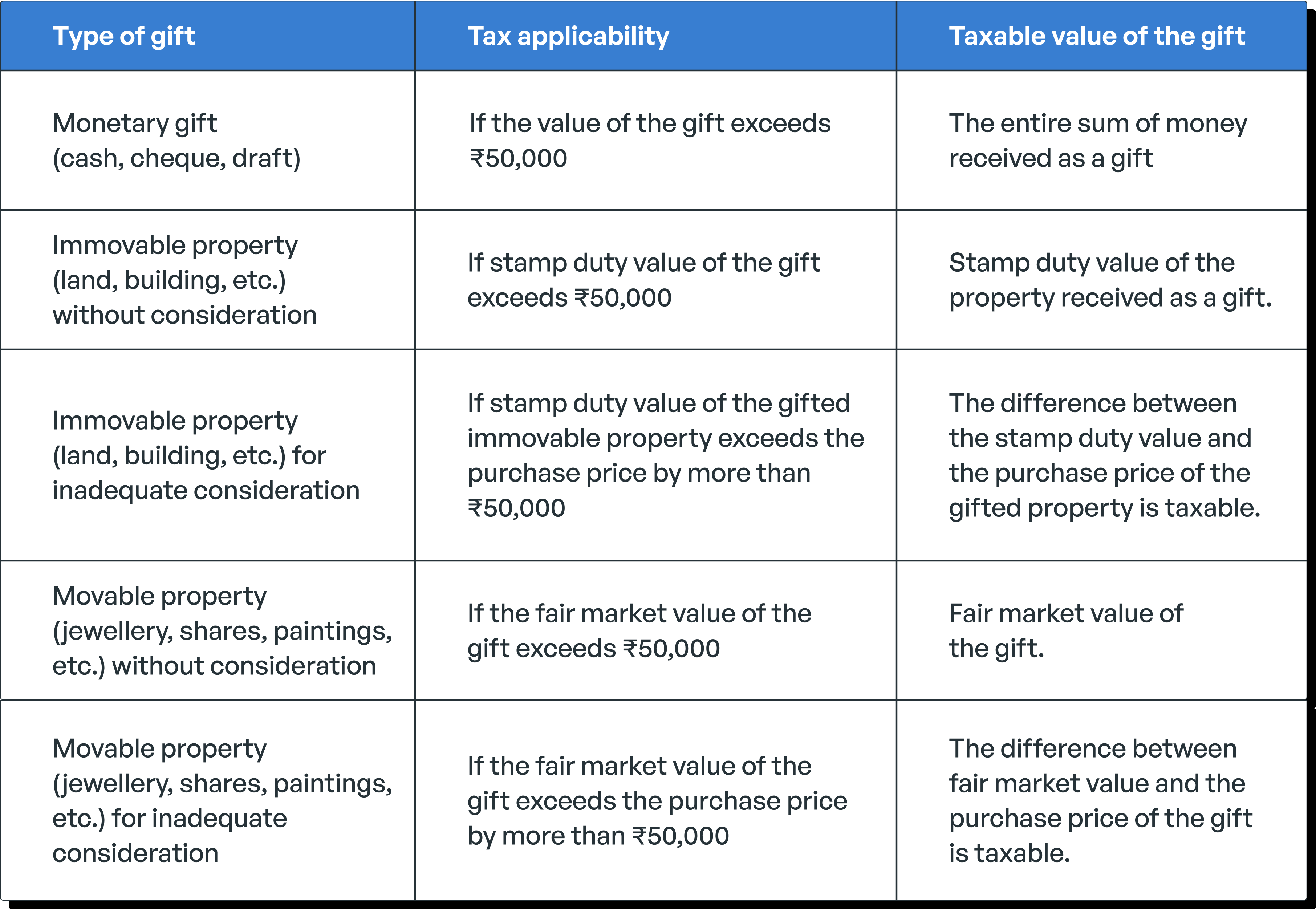 How to declare tax on gifts in India?
The recipient of the gift, known as the donee, is responsible for declaring the value of the gift while filing their Income Tax Return (ITR).
This should be done under the 'Income from Other Sources' head, and the tax liability on the gift is calculated based on the donee's income tax slab rate.
For example, if someone's total annual income, including the gifted amount, falls in the 30% tax bracket, the gift will be taxed at the applicable rate.
In conclusion, while gifts are a joyous part of Indian culture and celebrations, it's essential to declare and pay taxes on gifts when applicable.
We would also advise you to keep the necessary documentation and proofs to verify the genuineness of the gift and source of funds with the donor.
If you found this information valuable, please feel free to ask any questions or share your thoughts in the comments. You can also visit Quicko, India's leading tax filing platform if you want any further assistance with understanding the tax rules related to gifts in India. We can help you every step of the way – right from calculating the tax implications on your gifts to declaring them in your ITR.